DULUTH — The newest addition to the Lincoln Park neighborhood's craft district arrived on Saturday, September 24 when Warrior Brewing Company opened its tasting room. The veteran-owned business has been brewing beer since May 2021 at the former Lake Superior Brewing Company location after Seth and Sarah Maxim moved their new brewery to the Lakeside neighborhood.
The Warrior Brewing Company bar joins the group of breweries and cider houses within walking distance, including Ursa Minor Brewing, Duluth Cider, Wild State Cider, Bent Paddle Brewing Co., and Duluth Tap Exchange.
"From opening to closing, it was very busy. A lot of people were waiting for us to open," said co-founder and head brewer Ben Gipson.
While helping the Maxims move their brewpub-brewery to its new location, Gipson first learned that the turnkey warehouse-brewpub at 2711 W. Superior St. was available. Gipson and Matt Caple, co-founder and COO of Warrior Brewing Company, took over the space. They started building Warrior Brewing Company amid the pandemic at the end of 2020.
"The brewhouse was already installed. Everything else we brought in. We're still using the same mash tun the Lake Superior Brewing Company has used for two decades," Gipson said.
Over the past year, Warrior Brewing Company has offered off-the-shelf beer in cans and bottles at more than 50 locations across the state, in addition to its stand-alone brewery, which has seen the long-awaited opening of its tasting room.
Gipson and Matt are there pouring the beer. Three offerings are currently available year-round on and off-sale, including Valkyrie Golden Honey Ale, Patriot American IPA and Barbarian Imperial Stout, as well as seasonal cans of Valkyrie Pumpkin Ale.
Off-sale hours are Monday through Saturday 12:00 p.m. to 8:00 p.m. The tavern is open Monday to Thursday from 5 p.m. to 8 p.m.; and from Friday to Saturday from 12 p.m. to 8 p.m.
Currently, Warrior Brewing Company employs an assistant brewer and will be looking to hire more staff with the dining facility established. There is seating for around 20 patrons in the 2,000 square foot floor space. Another third of the warehouse is expected to open for a possible consumer room expansion this winter, Gipson said.
Setting Warrior Brewing Company apart is its mission to help support various veterans' organizations by brewing beer, Gipson said.
Inspired by the practice of Trappist monks of brewing a specific amount of beer in their monasteries to raise funds for the church, Warrior Brewing Company follows a similar pattern.
"Instead of supporting the church, we're supporting veterans and first responders," Gipson said.
Gipson began homebrewing a decade ago while stationed at Vandenberg Air Force Base near Lompoc, California. After serving as a heavy equipment operator in the Air Force, he became an award-winning head brewer at the Canal Park Brewing Company for three years.
In 2019, Gipson met Caple, who is also co-founder and captain of the Lake Superior Warriors hockey team, during a collaborative brew day with Canal Park Brewing.
Lake Superior Warriors is a non-profit organization whose primary goal is to help veterans with disabilities reintegrate into society after their military service through community service and hockey. The program organizes volunteering and outreach events to connect members with communities. All veterans are eligible, but only qualified disabled veterans may participate in certain USA Disabled Hockey events and tournaments.
Both being disabled veterans, Gipson and Caple found another common thread: a passion for brewing beer. Caple served as a satellite communications operator in the military and learned to brew at home while stationed in Colorado Springs, Colorado. Upon returning to Duluth, he joined the Northern Ale Stars to hone his craft.
"That was the first spark of what we created," Gipson said. "Matt knows everyone here with a military connection, and I wanted to teach people the craft. I really like being able to create something and share it with people. That was the missing piece."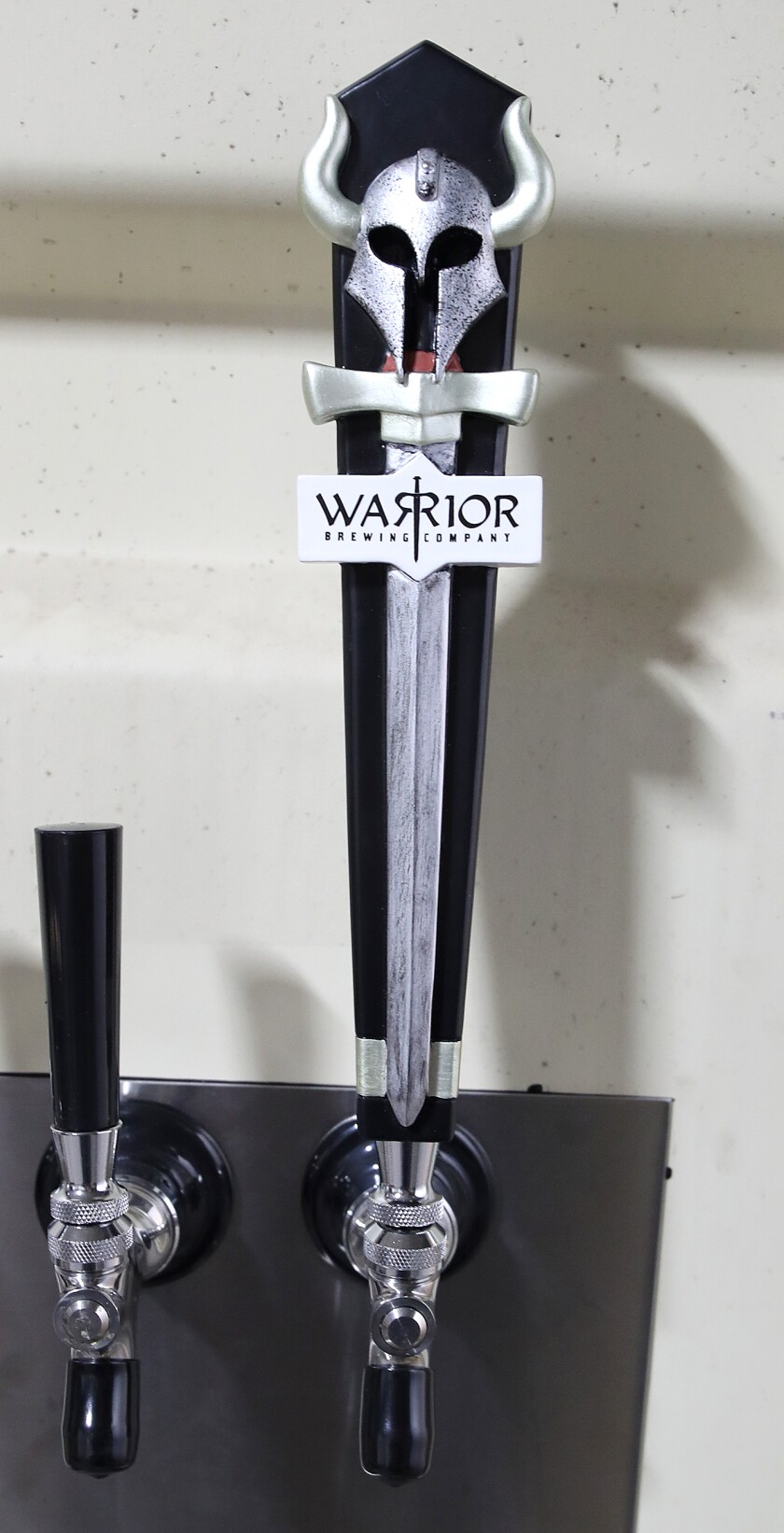 A dream come true, Warrior Brewing Company strives to fulfill its mission in three ways: education, exposure and fundraising.
Each month, a group of two to six veterans or first responders are given the opportunity for hands-on brewing experience to expose them to the craft. They tour the brewing facility and participate in the beer making process by grinding and adding hops.
Brew days are alcohol-free in order to focus on learning the craft and building networks between different veterans' organizations, Gipson explained.
"We are well aware that there are many veterans who struggle with alcohol. That's why we provide an alcohol-free environment as a way to engage, socialize and bond," said Gipson.
Warrior Brewing Company also uses its "Patriot Series" labels to build exposure to various veteran organizations. Currently featured on its Patriot IPA beer cans is the Richard I. Bong Veterans Historical Center; the next will be Forgotten Heroes Ranges and Retreat.
"Our goal is for someone to have a beer and learn more about this organization. We're creating the branch of a tree to help reach more resources for veterans," Gipson said.
Next spring, Warrior Brewing Company will partner with Strong Compass, a non-profit organization focused on helping veterans find therapeutic ways to navigate civilian life through equine therapy, mixed martial arts and recreation. outdoors. Strong Compass will harvest honey, which the brewery will then purchase to create its Valkyrie Golden Honey Ale.
The brewery goes one step further with its fundraising efforts. Members of veterans and first responder organizations are welcome to assist with brewing, hand bottling, and dipping wax. In return, Warrior Brewing Company donates 50% of these limited-edition, small-batch collaboration brews to the participating organization.
"We currently have two fundraising beers, including the Ace of Aces edition of our Patriot series. These are great collecting opportunities. We often call them our sale pieces because some veteran families buy it for set it aside. These are usually a higher priced beer with higher alcohol content; more of a drink for special occasions and gatherings," Gipson said.
Military and First Responders receive 25% off purchases, excluding collaboration fundraising bottles.
Eventually, Gipson hopes to provide a veteran resource brochure to the brewery and form veteran cribbage and darts leagues.
He said: "With the care and thought put into every bottle and every can, each has a story behind it. It's come full circle with all the resources and people who want to build this together."